It is believed that SurePayroll is the oldest small business payroll service around; but Paychex, the owner of SurePayroll is actually the oldest, being founded in 1971. Yet there are some distinct differences between the two.
Payroll has fees that start at 60 dollars per pay, it's one of the priciest services for any small business. However, its overall usability, scalability, depth as well as customizability of its features make it an ideal choice for companies that are poised to grow. Unlike SurePayroll, Paychex is thoroughly modern. As a matter of fact, Paychex is the most scalable payroll service for a small business.
Live Setup
Few other cloud-based types of application have such critical needs for the immediate support just as payroll does. Payroll and the payroll taxes that are inaccurate, late or somehow flawed can be subject to fines. Such problems might also raise the wrath of employees, alienate managers who usually count on you and eventually get you into trouble with the financial institutions.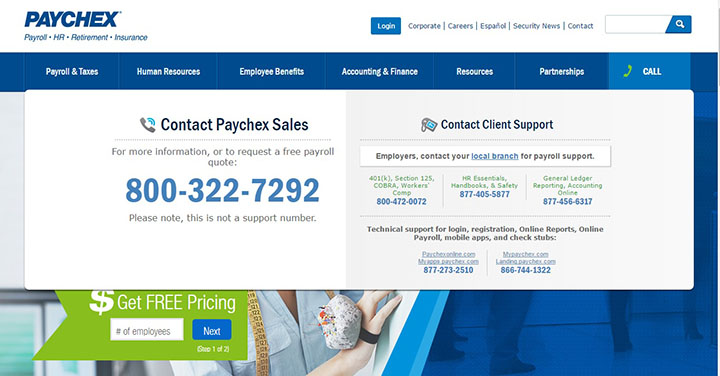 As a result, the department or individual that does payroll service at your company should have access to responsive, comprehensive and top-notch support. Most payroll services for small business providers have live phone support at least from Monday to Friday along with email and chat communications. They also provide videos, demos, FAQs, tutorials and other forms of online guidance.
Paychex offers all these features but the small business payroll software goes an extra mile with their 24/7 live phone support that no other company offers. When you choose to sign up for their service, you will be assigned a payroll specialist who will be your primary contact.
Paying Taxes and Employees
Most small business payroll services usually follow the same process to run an actual payroll. They have at least one way of giving you an advance notice about an upcoming due date. This is either provided on the dashboard, in an email or through some other methods of communication. By using the data that you entered during the setup – company preferences and information, employee records, tax details, deduction and so on, they normally show your complete list of employees in the grid-like display.
They provide blank fields for entering bonuses due, hours worked as well as vacation and the sick pay take; literally anything that has an effect on the dollar amount that appears on the workers' paychecks or even in their accounts. Besides providing all these features, Paychex offers an additional third option here by putting all or even part of the salary of your employees on a prepaid MasterCard.
Paychex Flex is by far more flexible as compared to its competition in terms of shaping every payroll run because it is part of the large human resources ecosystem. As a result, the records that you create are likely to comprise of more personal details and preferences. Furthermore, Paychex will let you define an limitless number of custom fields; something that no other small business payroll software does.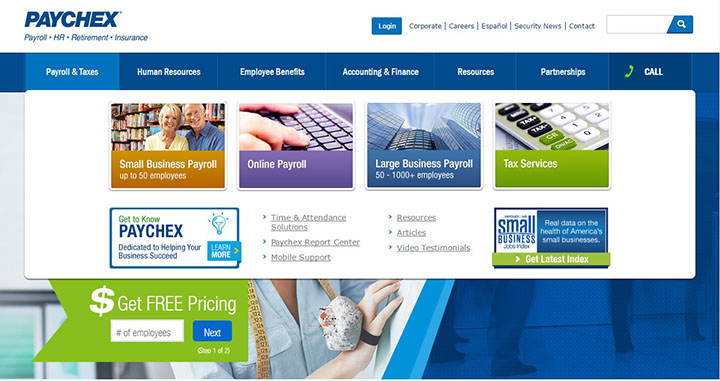 Paychex also offers extras that most of their competitors don't when it comes to actual payroll processing. For instance, you can work ahead on the payrolls. As a result, if you know that there's a person who is going to get a garnishment or bonus 6 weeks from now, then you can go ahead and enter during that particular period instead of having to put a sticky note on the monitor. In addition, all payrolls are usually put on the automatic 15-minutes hold which gives you one final chance to remember the things that you might have forgotten.
Your employees can also view historical and current pay stubs in addition to requesting vacation and checking time-off balances just by logging into their personal portal—either on a desktop or even from a mobile application that's available for both Android and iOS operating systems. Moreover, employers can log into their own applications to view the employee reports and records. You can also launch a payroll run or even resume one that has already been started.
Online small business payroll software doesn't necessarily have to be pretty. However, it should look clean and professional without being as lifeless and flat as the IRS Form 1040. Moreover, they should have simple and clear navigation tools that can be accessed and learned quickly. The employees who must always work with payroll don't have to wrestle with any unfriendly service. Paychex Flex has this type of solid user interface for their clients. Even if you decide to subscribe to all Paychex's services, you can still capable of finding your way to your preferred destination. However, these other HR tools are hidden when you are a payroll-only customer.
The site uses graphics and color sparingly, and with a worthy purpose in mind. Paychex Flex, just like most of its competitors, uses a combination of icons, buttons, drop-down lists, and checkboxes and fill-in-the-blank fields as navigation aids.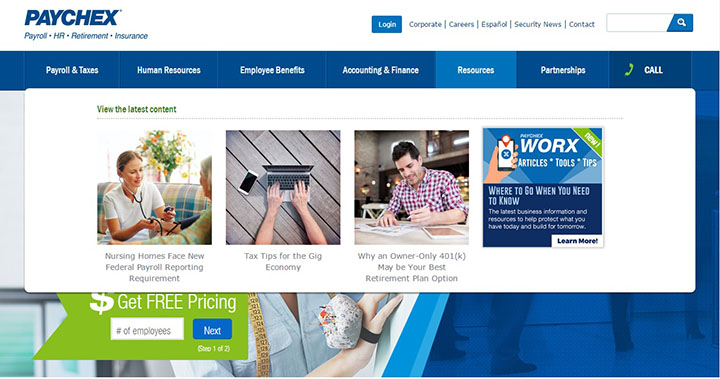 Pros 
· Dedicated Customer Support: Paychex Flex offers excellent personal support and customer service for all users.
· Syncs with Sage and QuickBooks: One of the main advantages of Paychex Flex is that it syncs seamlessly with popular bookkeeping and accounting software like QuickBooks and Sage 50.
· Online Access for Employees and Employers: Paychex enables employees to access several different things online including retirement information and pay stubs.
· Easy to navigate.
· Multiple Payment Options: Paychex can also print off checks and then mail them to your own business.
· Multiple Submission Options: Once you have subscribed to Paychex Flex, you can decide to submit your payroll information many different ways.
· Helpful Mobile Apps: Mobile applications are available both for Android and iOS
Cons 
· Cannot Print Your Own Checks: Employers can't print their own paychecks using this payroll service for small business.
· Clunky User Interface: Paychex has not always been a small business payroll service. The company had existed ever since 1971 and it only expanded its online offerings recently.
· Expensive: Nowadays, there are several small business payroll software providers, including Intuit that provide accurate and easy-to-use services at a low cost as compared to Paychex.
Final verdict
Paychex might be more expensive as compared to other small business online payroll services but it's also more scalable and robust. Paychex is a strong competitor within the online payroll service space. Its robustness and price make it a great choice and in the case of a company that's looking for a scalable solution that's capable of offering HR and several other human-capital services, Paychex is the way to go.
Featured Image: paychex