Spending money wisely is the key toward ensuring the survival of any small business. With limited revenue compared to many larger corporations, costs must be kept as low as possible. One of the simplest ways to do this is by using Intuit Full Service Payroll, one of the highest rated and most recommended small business payroll services on the market. Going beyond its competitors, it offers accounting, tax, and financial services that are unparalleled.
Product Features
Intuit Full Service Payroll lives up to its name. From purchasing the software to paying employees, Intuit is there every step of the way. It is truly a full service product.
After installing the product, a live service representative helps guide you through the rest of the process. This is helpful but almost extraneous as the software also includes a to-do-list that instructs the small business owner what needs to be done before employees can start being paid. Intuit goes beyond what's necessary to ensure that you can revel in the full beauty of its product.
To insert employee information, Intuit allows you to enter it directly, upload files, or fax over documents. With the names in the system, the process to pay employees is a breeze:
To insert employee information, Intuit allows you to enter it directly, upload files, or fax over documents. With the names in the system, the process to pay employees is a breeze:
1. Log in to the Intuit payroll server. You can use any computer in the world as well as many Apple and Android devices. This means even when travelling you can ensure that employees will be paid.
2. Insert the number of hours worked for each employee.
3. Preview the information.
4. Submit to Intuit.
Employees are then paid directly or checks are made available for printing.
Another beneficial feature is after submitting employee payment information, you have the option of uploading the data into Quickbooks for your own records. Lastly, you will never have to worry about taxes again. Intuit takes care of that. They send W-2 tax forms to employees at the end of the year, file employee taxes, and make sure that all tax laws are followed. Both these benefits will save the business time and money. No longer will expensive accounts need be hired or expensive pieces of software purchased.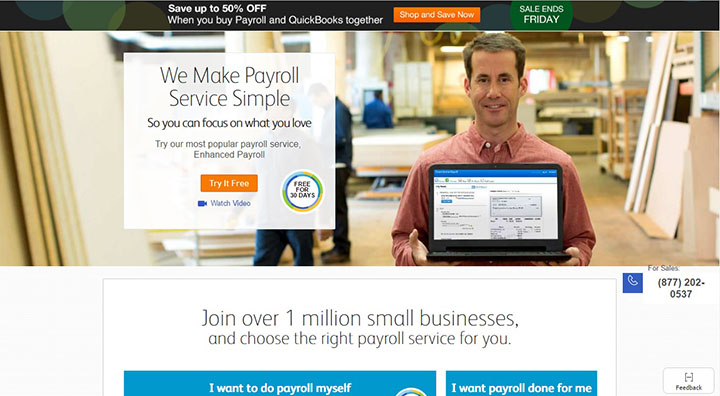 Price and Availability
Before purchasing Intuit Full Service Payroll, you are offered a 30 Day Free Trial. Though it is unlikely that you'll be dissatisfied, Intuit hands you this gift just to make sure you know what you are paying for. After the end of the free trial, the price rises to $79.99 per month plus $2 per month for every employee inputted into the software.
To purchase the software simply visit this webpage and click "Contact Us." Input and submit your name, phone number, email address, the location of the business, how many employees are hired by the business, and a day and time that is best to be reached. A representative from Intuit will call you during that period and lead you through the rest of the installation process.
Positives and Negatives of Intuit
Intuit Full Service Payroll goes above and beyond most other competitors but is still lacking certain features that others offer either for free or a minimal cost.
First, while it is simple to input employee information, other similar software allows employees the ability to input their hours directly into the system when they clock in and clock out. Like any other clocking system, the employee logs into the server when he begins work and logs out when he leaves. Some of these sites also offer employees their own portals to review and verify the hours they've worked, a feature Intuit does not offer. Furthermore, while automated support is available 24/7, actual representatives can only be reached during limited hours.
Despite these drawbacks, however, Intuit Full Service Payroll still offers a great deal more than its competitors. Offering free tax services that rival the best professionals for no extra cost is a feature that is rare to find at a $79.99 base monthly rate. Beyond that, the customer support that is offered throughout the entire installation process is not only unnecessary but incredibly unusual. Lastly, full compatibility with Quickbooks is one of the strongest features that cannot be overlooked.
Thus, at this price tag, a business owner will be receiving accounting, tax, and other financial services that might otherwise cost several hundred dollars more per month.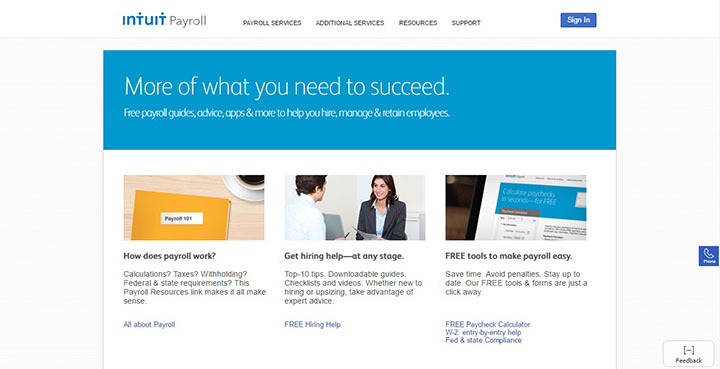 Rewards and Reviews
For these and many other reasons, Intuit Full Services Payroll remains one of the top rated and most highly ranked small business payroll services on the market. TopTenReviews ranks it as the best online payroll service available with a score of 9.6/10. It has also been ranked as both Gold and Excellent by TopTenReviews in 2016.
A simple Google search will also reveal the plethora of positive reviews that have come from users of the product. Many commend its ease-of-use while others praise the time-saving and stress-reducing free tax services. One small business owner said that he was able to offer each of his employees an extra vacation day because of the costs saved after he began using Intuit. Another who has used Intuit for nine years says that the program is indispensable. Without it, her business would not be able to survive.
From professional reviewers to regular users, Intuit Full Services Payroll continues to prove itself a valuable and necessary piece of software for small business owners.
Is It Right For You?
If you began reading this article, then you're probably looking for a solution to a problem too many small business owners have faced: finding a useful, efficient, and cost-effective payroll service. After making it this far, I'm sure you can already realize that you've found the answer you're looking for. However, if you're still not sold, I suggest trying the 30 day free trial. I'm sure you will then be convinced.
Conclusion
In short, Intuit Full Services Payroll does everything a payroll service should do and more. It makes sure that the small business owner knows how to use the software, ensures that employees get paid, takes care of taxes, and allows all data to be easily retrieved through Quickbooks. Mild drawbacks do not deter from the magnificence of this product. This is by far one of the best small business payroll services around.
Featured Image: payroll.intuit