Running a small business is one of the most difficult challenges in the world. Where large corporations have the funds and resources to pay for expensive software, services, and employees, small businesses sometimes lack these resources. Even finding a cost effective way to perform payroll has been difficult for many of these organizations.
In recent years, many companies have noticed this problem and begun marketing products designed to resolve these issues. Many of these products, however, either remains expensive or lacking in one way or another. Patriot Software Full Service Payroll, however, is a small business payroll software that works. Here's why:
Product Features
This payroll service has two plans to choose from:
The basic payroll plan includes free setup and support, the ability to print checks or to deposit wages directly into employees' bank accounts, printable W-2 tax forms, and a portal for employees to access so that they can view their payroll information. The price starts at $10 per employee per month plus at most $2 for every additional employee.
The full-service payroll plan includes all the features of the basic payroll plan plus helpful tools for filing employee taxes including the ability to file W-2 and W-3 tax forms and federal, state, and local payroll taxes. The price starts at $25 per employee per month plus at most $4 for every additional employee.
In addition to these features, there are two add-ins that can be purchased. A time & attendance add-in starts at $5 per month and enables the employees to input hours directly into the system reducing the need for external time-tracking mechanisms. A second add-in, a piece of HR software, starts at $4 a month and allows the employer to supply paperless records to employees with their employment history, census data, and other demographic information.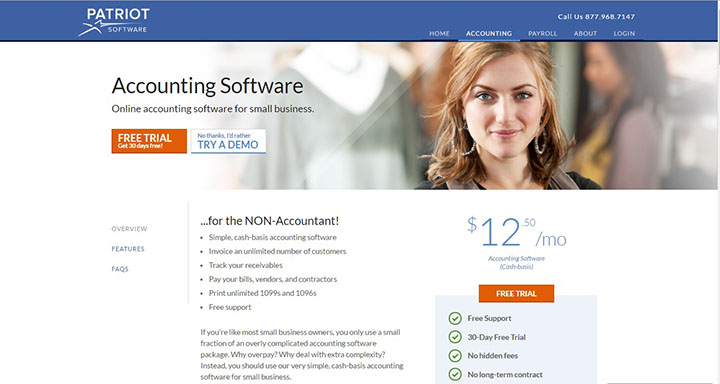 Pros 
One of the greatest features of the Patriot Software Full Service Payroll is the ease and simplicity of its use. As a payroll service for small businesses, it allows the employer to pay employees in three simple steps:
1. Enter Payroll: Input the pay period and pay date, hourly and salary employees, define hourly and salary rates for each employee, and insert the total hours worked during that period for each employee, including overtime hours.
2. Approve Payroll: Click the button that says next in the upper right-hand corner and move to a second screen in which you can review everything you entered.
3. Print Paychecks: Once everything is approved, you then move to the third and final window which allows you to print out the paychecks. (Payment can also be made directly to the employee's bank.)
Cons
One hindrance, however, is that the time & attendance add-in must be purchased separately from both the basic and full-service payroll plan. While this allows the employees to enter their data directly into the payroll software online, it also costs the small business more money to use. This means that the employer must either pay an increased rate each month or find a secondary means of tracking time in order to input the hours employees work from a second source into the software. Including the add-in as part of at least the full-service payroll plan would be a useful benefit, and would conform to what would be expected of "full service."
Another issue is that employers must pay per employee rather than paying a single, stable monthly rate. Thus, if the number of employees increases or decreases the cost to be paid to Patriot Software will be in constant fluctuation. This means a variable expense must be now kept on the financial books. Time will have to be spent each month verifying the actual payment to be made and inputting it into the program. A single and stable monthly payment, however, would serve as a controlled variable that would be easier for small businesses to track and verify.
Nonetheless, these small defects do not detract from the program itself. Its simplicity makes it accessible to virtually anyone, even those with the most limited computer experience. Further, Patriot Software allows the employer the choice between a demo or a thirty-day free trial. Lastly, even with the variable cost of the program and that of the add-ins, Patriot Software Full Service Payroll still has a much lower price tag than that of most of its competitors.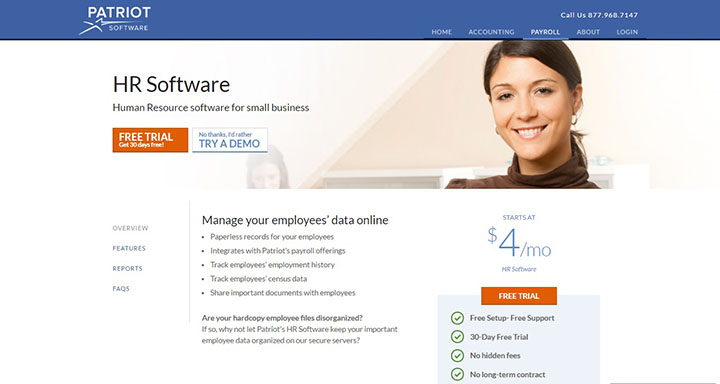 What Do Others Think?
Those who have used the product — both employers and employees — have spoken very highly of it. Patriot Software Full Service Payroll has proven to be a useful payroll for small businesses of all shapes and sizes. Employers often write reviews celebrating the time-saving convenience of the software. No more do they need to spend hours plugging numbers into various spreadsheets and programs to make sure everyone gets paid.
Employees also enjoy how simple it is to review their information through the employee portal. Many find that the transparency offered when employers use this software is far beyond what they've experienced in other establishments, especially working for large corporations who use complex and secretive methods of payment.
Is It Right for You?
If you're a small business owner who has been seeking a simple, quick, and efficient method for paying employees, look no further. And if you're an employee who's tired of jumping through hoops to get the money you worked for, it might be time to mention this program to your boss.
This program is designed for small businesses with 1-100 employees. If you have hired more than that the program, unfortunately, will lose its effectiveness. This is a bit disappointing, but in order to maintain a lead over other payroll services marketing themselves to small businesses and large corporations alike, Patriot Software has found a simple means of differentiation: focus only on small businesses with a limited number of employees.
Conclusion: Summary of Review
Small business payroll services for small businesses have never been this easy to use nor have they offered the sort of transparency that Patriot Software offers. With two different plans to choose from and a series of add-ins that are inexpensively priced, this program remains a perfect fit for any business with less than 100 employees. If you or someone you work for owns such a business, it might be time to look into a new type of payroll software.