Businesses nowadays rely on merchant financing to grow. This creates the need for merchant service credit cards that makes the acquisition of stock for your business pretty much easier hence the repayment of cash advanced. Another option to fund the growth of businesses is merchant cash advance. It's gaining popularity on a daily basis so check out FundBox – a merchant cash advance service in its full review below.
What is FundBox?
Fundbox is a revolutionary company that helps small businesses get advanced loans to meet their day-to-day needs. FundBox comes in to play the part as a merchant cash advance system that provides funding for unpaid customer invoices for your business. It is an invoice financing offer best suited for businesses that cannot get small business loans from financial institutions or other credit lines and need help managing their cash flow. Reasons for this may include a lack of collateral, a bad credit history or rating and also a possible limited business history. FundBox earns back their cash advances through the merchant service credit cards sales on a daily or agreed periodical term with the business to which cash was advanced.
Who qualifies for FundBox?
This merchant cash advance system finances outstanding invoices to the tune of up to $100,000. The companies should also utilize online accounting platforms such as intuit QuickBooks, FreshBooks cloud accounting, Xero, Harvest, Wave, Clio, invoiceASAP, Sage One and Kashoo in their daily operations, which should be linked to FundBox.
FundBox targets businesses having a hard time accessing credit from other financial firms with bad credit history or ratings, have no collateral and got a limited business history. There is no minimum personal credit score required hence an individual should not worry about their personal credit scores. Also, there is no minimal annual revenue of the business required for submission so if you're a startup, or your last few years figures haven't been what you hoped for, there is still a chance with FundBox. However, FundBox does conduct background checks on all businesses needing their funding hence you should make sure everything is in order.
Getting started with FundBox
Getting started with FundBox is a quick affair, and setting up the account is absolutely free!
Go to the 'Get Started' or 'Apply Now' option on the website which will direct you to a sign up page. Fill in the details required and click on 'Get Started Now'. You are now set up in as little as 30 seconds.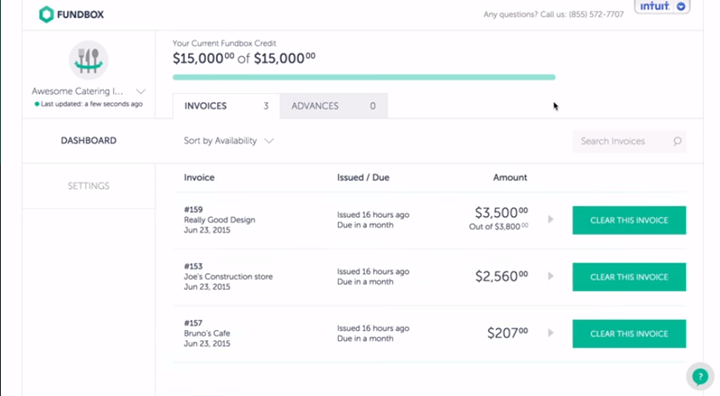 FundBox promises to put you in control of your cash flow. Get to clear invoices from as low as $500 upwards and you get to use the funds for whatever you need. There is fair and transparent pricing with you getting 100% of the invoice value with no hidden costs. Customers partnered with FundBox get on average a 41% increase in cash availability to fund their business operations and the cash advance is wired directly to your bank account.
FundBox has a partnership with several accounting packages giving you a wide variety of options to choose from in order to start working with them.
Getting paid for your outstanding invoices is a simple and straightforward matter. You always get the full amount of the invoice with no hidden charges; the fee charged on top is expressly shown to you even before you go ahead to request the invoice amount and there is no other hidden fees. The money is sent as fast as the next business day, with a maximum period of 3 business days. The integration of the accounting packages and FundBox is amazing, get your invoices paid for by simple clicks, right from your office. Get in touch with our onboard specialists to help you out with any issue.
If there is need to improve your cash flow status, just select one or more invoices to get paid, and continue making your business thrive.
FundBox repayment terms
FundBox offers cash advances to the tune of $100,000 that should be repaid in 12 equal weekly installments. Advance as many invoices as possible, as often as you want, up to $25,000. Qualify for up to $25,000 at a time. As you pay back, you are at liberty to advance more invoices with no additional approval required. There is a fee on top, an amount which is determined by the size of the merchant cash advance offered and the amount of time you have been a FundBox customer. You will see the full cost to be repaid before you advance an invoice and it will be your choice to make a decision to go ahead and request the advance or not.
Long-running customers will obviously get friendlier terms. Only pay for what you use, and the faster you pay it back, the more you will save.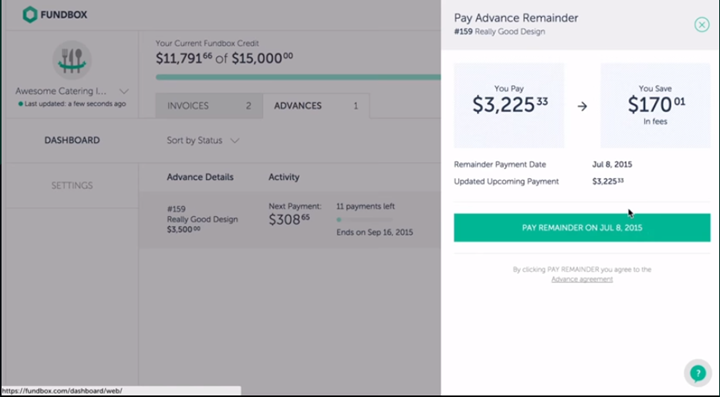 Pros
There are several advantages that accrue to your business when you get to use FundBox to grow it. They include:
Faster access to cash – You can get the cash invoice advances wired to your bank account in 1 to 3 business days. 

Early repayment flexibility – You can clear your loan in full earlier than agreed. Here, the penalty and remaining fees will be waived.

No collateral or personal guarantee – There is no personal collateral or guarantee as security required of the borrower in order to access the loan. The owner will not be personally liable to pay if his business falls back in paying the loan.

FundBox does not deal with your customers – They deal with you directly and your customers won't know that your invoices are being financed. Privacy is upheld.
Cons
High cost of cash advances – It is quite expensive to get cash advances here; FundBox charges from $52 to $72 in fees on a $1,000 invoice, $243 to $393 on a $5,000 invoice, and $482 to $782 on a $10,000 invoice. This leads to an APR of 13% to 68%, but they decrease the more you use FundBox.

$100,000 maximum funding – Businesses that need more than $100,000 in funding won't be able to get it with FundBox.

Online accounting software – Only businesses using the online accounting software linked to FundBox can access funding.
Featured Image: thelendingmag