Is your small business struggling with gaps in cash flows? Worry no more as there are two types of funding provided by BlueVine in order to address needs that are short term. Flex credit is the business credit line provided by BlueVine and it is usually between $5,000 and $50,000. This gives a chance to borrowers to withdraw money whenever small business owners are in need.
According to BlueVine, 75% of the new clients who seek their services go for the Flex Credit. You should, therefore, not worry about cash flow gaps in your business as BlueVine is there for you to offer support when you need it. It is common for a business owner to require a merchant cash advance from one time to the other and BlueVine is the friend to lean on during these moments.
BlueVine, apart from lending you funds when you need them, have gone an extra mile of helping the small business owners. They do this by having invoice factoring for developing businesses. With the invoice factoring, the lender is patient enough to wait for more than a week for the client to service the dues either for services or products provided. Invoice factoring is also referred to as accounts receivable financing or invoice financing and this especially, is ideal for businesses that sell to other stores.
The invoice financing service provided by BlueVine ensures that you do not run out of stock, just because you do not have enough cash flow in the business for that particular time. All you need to do is apply for the service and within the shortest time possible, you receive the products or services you are in lieu of and pay later. The paying period is usually more than a week. This means that BlueVine plays a great role in maintaining your customers even when you have financial challenges.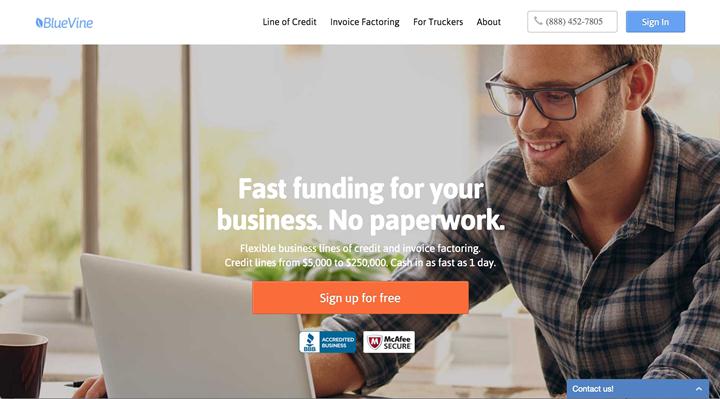 BlueVine provides a credit line of $5,000 to $50,000 with an APR of 16% to 62%. With this, you are given a grace period of 6 months to pay the amount you borrow. This is more than enough time for a business to repay the money. For invoice financing, BlueVine offers a loan of between $20,000 and $500,000 with an APR of 17% to 60%. In this category of invoice factoring you are given a grace period of 1 – 12 weeks in order to pay for the products or services received. This is how much you run your business I a smooth manner eve in times when you are in a financial crisis. Below are some of the reasons why you should consider getting services from BlueVine.
Pros
All Credit Scores Accepted
To get any kind of financial help from the banking sector, you require a good credit record score. Otherwise, when you have poor credit records your possibility to access a loan even when you are in dire need have minimal chances. Therefore, for your small business, you require a clean record for the banks to consider you for a loan. However, BlueVine does not have this as a requirement and this makes it easier for you to access financial help whenever you are in need of it.
This is why most small business owners prefer to work with BlueVine as compared to banks as it tends to all of their needs at all times. You are a potential customer to the lender as that is what they consider you as even if you have a low credit score below 600. What they care about is the cash flow of your business and in the case of getting an invoice factoring account, they mind about your customer's creditworthiness.
If your clients are usually other organizations or businesses, for example, manufacturers that deliver goods to corporations, or janitorial firms that offer government agency services, it is common for your clients not to pay immediately. To ease the hiccups of cash flow BlueVine should be your best friend. Its accounts receivable financing can relax the cash tension caused by delays of such kind.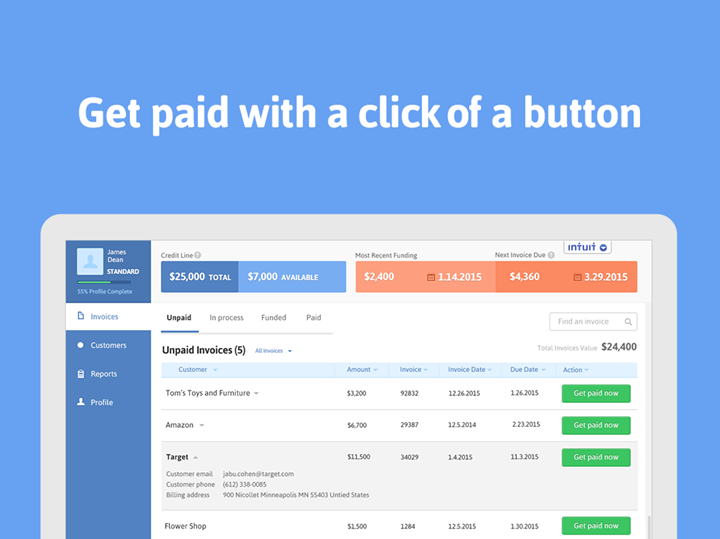 The process of application for fast cash is quick and the merchant service credit card is not a requirement. The approval process takes not more than 12 hours for a BlueVine credit line. To sign up for an invoice factoring account, it takes as little as a few minutes to as long as a day. Immediately you are granted the approval, funds are accessible within 24 hours.
Cons
Penalty for Late Paying Clients
The invoice factoring from BlueVine gives you a chance to use unpaid invoices as a capital source. However, for this to work efficiently, you must have reputable and reliable customers who diligently attend to their bills as well as those who have strong credit. If your client pays their dues at a later date than they agreed, the lender gives an allowance of two weeks for you to clear the debt. If the customer goes past those two weeks before paying, it is your duty to step up and service the dues. After 2 weeks, you get a 3% late fee but depending on various factors BlueVine might end up waiving the fee.
BlueVine has priced its services relatively expensive as compared to numerous online loans. With an APR of up to 62% regardless of whether it's an invoice factoring or credit line account, it is one of the most expensive services on the market. The financing BlueVine provides is usually short term in nature, like making payroll as you wait for customers to pay their bills.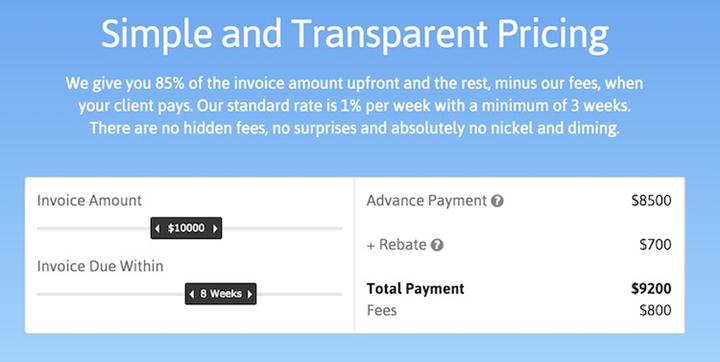 If you just need a merchant cash advance, BlueVine's credit line account is the most appropriate option. This is because the credit line is accessible by any business kind with frequent cash flow gaps. It is for businesses with an annual revenue of $60,000. However, BlueVine's invoice factoring is appropriate for businesses that service other businesses (B2B), businesses with customers that are reputable and businesses that go for more than 1 week waiting for customers to service their dues. For both the accounts, merchant service credit cards are not a requirement while applying for the financial aid.
Featured Image: fitsmallbusiness