Business owners need to get some kind of financing from time to time. Business cycles are a reality in today's economy and business owners need to face this reality too. So they might need a merchant cash advance, merchant service credit cards, and other things from time to time too. So we are going to talk a little bit about Dealstruck and the things this firm can do for you in monetary terms.
Get Financial Assistance
Dealstruck will allow you to get the financial assistance that you have been seeking. The service comes with 3 types of loans for small businesses, and the firm will also aid you to identify what will work best for your particular situation. If you need to consolidate a loan because this loan has a high-interest rate, Dealstruck can be your best friend in this situation. So Dealstruck is an option for you if you need to refinance your debt as soon as possible. If your business gets paid in invoices, you can get an asset-based line of credit with Dealstruck right away.
You can get a term long for a small amount such as $50,000, but you can also get this loan for up to $500,000. If you want to get an asset-based credit line, you can get up to $500,000. The APR for term loans is between 10% and 28%, but the APR is just 22% plus a prime rate for the asset-based credit line and inventory. You will have six months per draw if you own a line of credit, and the loan term for term loans is between six months and four years.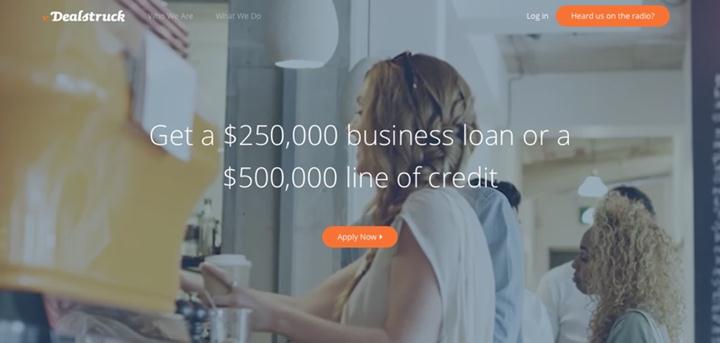 Great Funding Service
Dealstruck's funding time is around 10 days. And you can also visit their website if you need to know whether you qualify for a loan today. If you need more than just one type of financing or don't know the type of loan that is best for you, Dealstruck could be part of your options from now on. For instance, you might accommodate your financing needs better if you use two product loans just together. For instance, if you have a debt repayment problem, you can take out a term loan so you can cover the whole cost of the debt repayments right away.
In addition, you can take out a line of credit so you can cover your venture's day-to-day operations. During the loan process, Dealstruck's official will ask you a lot of questions about your business so you can get the best possible financing service out there. In fact, Dealstruck's services are very easy to use and you will get what you want quickly and easily. With a paper-free process and fantastic level of service, Dealstruck is truly here to stay for a long time. Though the application process only takes up 10 minutes, you might need to wait up to 20 days to get the funds.
Online Tools
Dealstruck will give you access to an online account so you can check your balance whenever you need to. You can also draw funds from your credit line or reconcile your invoices via payments. If you compare Dealstruck with other financing options that you see on the market, you will realize that Dealstruck is far less expensive than these options when it comes to asset-based credit lines. You just have to talk a look at the $22 APR plus the important prime interest rate.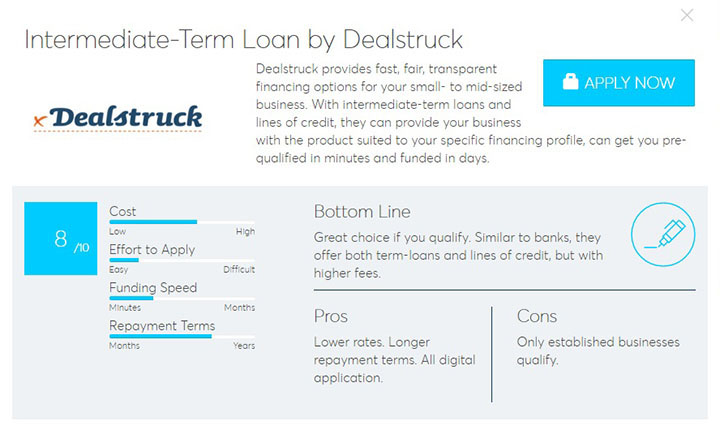 Another service is related to outstanding invoices of a business. For instance, if your business has $1,000,000 in outstanding invoices, you can borrow up to $850,000 from Dealstruck. But if your business just draws $200,000, the organization will only have to pay interest on this amount.
However, you might not want to lose control over the way you pay vendors, as Dealstruck will handle this for you if you take out an inventory credit line. In addition, Dealstruck will use a bank account the firm has with Wells Fargo so it can handle your asset-based credit line, which might annoy you too.
About APRs
Dealstruck is great but some of its competitors offer single-digit APRs that you might need to take into consideration. To get the lowest loan in terms of APR, get quotes from different lenders as soon as you can. NerdWallet can help you compare loans from different providers as the site has a cured list of these types of financial institutions. If you`re tired of dealing with the slow process most banks will oblige you to follow, Dealstruck is for you as this firm will make the loan process a cinch for you and your organization at all times.
With faster funding and minimal paperwork, Dealstruck can be the solution to your financing needs. Remember that Dealstruck is an option when it comes to getting financing for your next large inventory purchase. And you will get 4 years to pay off your $500,000 term loan, which is amazing. The experience and the professionalism of this firm will amaze you right away, and that`s something remarkable. The combination of traditional finance and the best technology allows this firm to offer outstanding service as well as innovate financial solution to their customers. With a transparent and fair service, Dealstruck can be your best financial friend.
Pros
– Fast service
– Fantastic customer support
– Reliable firm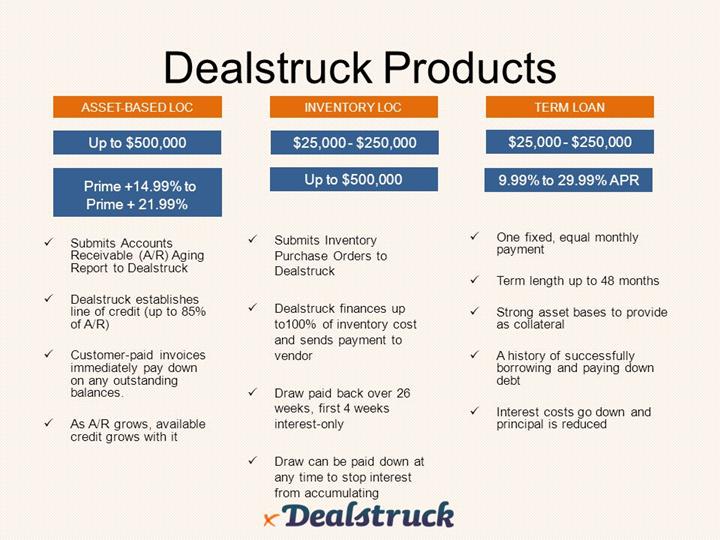 Cons
– You might end up losing power over the way you pay your vendors
As you can see, Dealstruck can aid you to get the business loan that you have been seeking for a long time. Remember that you will get access to a wide array of tools so you can know what`s going on with your account and your loan whenever you need to.
Business owners who don't really know what they need when it comes to financing should get the help of Dealstruck as soon as possible, as this financial institution knows how to work in the financial realm very well. So if you're having financial issues these days, you might consider Dealstruck so you can get rid of these problems as soon as possible.
Dealstruck also offers a fast, reliable service that can help your organization grow as quickly as possible. Though the process of getting your funds might be a little bit slow, you can handle this with all the patience that you can muster these days.
Featured Image: crowdfundinsider