With a strong internet connection in your office you need to take advantage of the transition from PBX hardware to cloud based VoIP services. RingCentral is one of the best VoIP business phone services out there. But how are you to know whether RingCentral is the phone service for you and your business needs? Well, we've taken the liberty of giving you an in-depth review on the service and from here you can make a more educated decision on whether or not you want to sign up. Check it out below.
Pros
Easy set up and management
Service can be scaled to need
Extensive support available
A lot of advanced features
Cons
Interface can take time to grow accustomed to
Portal can be sluggish at times, depending on amount of traffic
Cost
There are 3 different price plans available on RingCentral and the one you choose is dependent on your needs, number of employees, and budget.
Standard – $24.99/ month per user – up to 4 people per meeting
Premium – $34.99/ month per user – up to 25 people per meeting
Enterprise – $44.99/ month per user – up to 50 people per meeting
You can avail of a 30-day free trial before you sign up to any of these plans if you want to test out the service for yourself. You can sign up easily and quickly, and there is no setup fee, which is something most companies charge you.
Get Started
Once  you've signed up, a phone number will be emailed to you. Alternatively, businesses can use their existing number by transferring it over, request a toll-free number, and even get a vanity number. You can then log into your account and create extensions, assign call groups, call queues, and set up your automated receptionist. You don't need phones to sort all of the little things so you can get started straight away!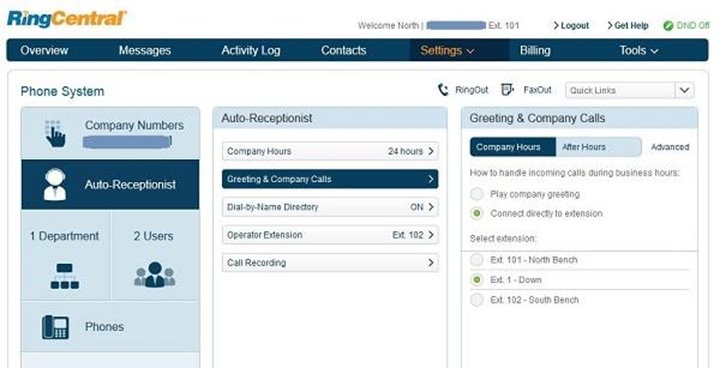 The interface, while being a little confusing to start, is well laid out, super responsive, and pretty to look at! Web tutorials and videos are supplied by RingCentral to help small businesses and employees navigate through the features and options in the interface. Even if you have a pretty strong firewall installed on your business network, there is usually no issues with setting up and using RingCentral, in fact, the quality of calls is second to none. It's loud and clear whether you're on broadband, a cable modem, or even DSL.
The service supports a lot of phones so there is no pressure to buy new ones once you've signed up, but if you prefer to buy new, the company can sell you preconfigured phones directly. There is nothing more to do with these phones than plug them in and turn them on, they're also standard hand held business phones so there's nothing new to learn with them either. Once they're plugged in, they pick up on all of the settings you've created after sign up, including automated messages, and any other calling rules. It is recommended to run the system on at least 90Kbps but most internet providers will be set up to handle this.
Features
On top of all the features other VoIP business phone services offer their customers, RingCentral go the extra mile. They provide customers with an array of features such as hold music, message alerts, presence in the office information, a company directory and more. They also offer call forwarding to cell phones and a system call 'call escalation' that allows calls to be transferred to the next number in line if there is no answer.
As well as a fax service, there is also conference call bridge numbers that are available in the US, Canada, and the UK. You can have up to 1,000 participants in on your call depending on your plan too.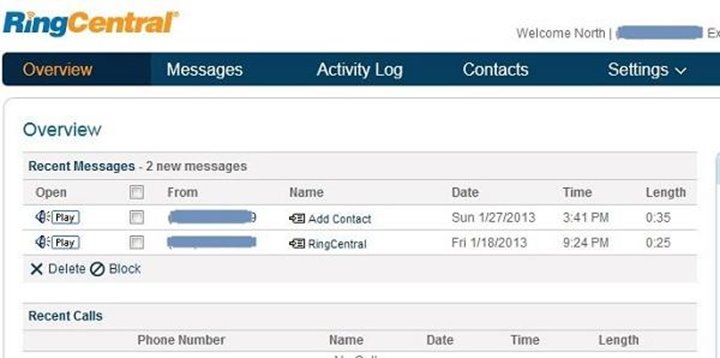 Call forwarding can be set up in two different ways; like most services, it will ring the office phone first, if this isn't answered, it will be forwarded to a cell or other landline number, and if this isn't answered it will be redirected back to the voicemail for that number. The second way; create a user without an office phone, just an office number which calls a cell or landline when the extension is dialed. If your employees are rarely in office this setup is incredibly convenient! They get to use their own cell, but a RingCentral number! This feature also extends to SMS messaging; employees can send out notifications from their personal phone, but their RingCentral number.
There is automatic call recording available for specific types of calls eg. the support team, and these recorded calls are all stored on the portal. They are time-stamped and stored online which means its a simple to type in the date and time of a call to review it.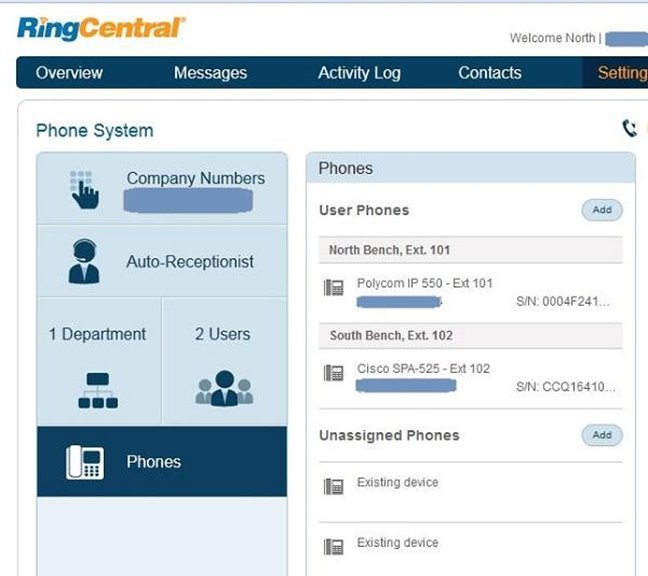 The mobile app is compatible with Android, Apple, and Blackberry and allows users to not only send calls and messages, but to record calls, and even send and receive faxes too.
Finally, you can set up video conferencing with RingCentral Meetings too and you can have up to 25 video streams at once. One of the biggest networks of any video conferencing service on the market. You can schedule meetings, record them, and even invite clients through email. Throughout video calls you can share screens, documents, and web pages. If they're using a mobile device, they can also share all of these things! So not only are you getting your VoIP phone service, but you're doubling up and getting video conferencing too.
Featured Image: goaboutbusiness