Phone.com is a VoIP phone service that is specifically for small businesses, both startup and established. It is a small business itself with less than 100 employees so you can rest assured that they have your best interests at heart. It's been in business since 2007 and is affordable and user-friendly. It's a great choice for smaller businesses with 30 day free trial options and supports pretty much every phone on the market!
Pros
30 day free trial

Quick and easy set up

Great service for single phones/ multiple users

International calling

Toll free number set-up
Cons
Limited integration capabilities

Interface is a little more complicated than its competitors
Cost
There are several different plans available on Phone.com 
Base Plan – $9.99/ month with 100 minutes

Plus Plan – $19.99/ month with 500 minutes

Pro Plan – $29.99/ month with 1,000 minutes

Custom Plan – available for bigger companies
All plans include the features that are listed and explained below and more. Free trials are also available before you sign up to any plan and come with 100 free minutes. 
Ease of Use
The great thing about Phone.com is that you need no equipment to get started. You can sign up online and get started straight away. Because Phone.com is that bit cheaper than its competitors, you unfortunately have to sacrifice having a personal account rep but its still quite an easy interface to use. Schedules, queues, and routing presets are all configured on different menus. 
Users can log in to their 'extensions' to check their voicemail, send a fax, or edit any personal information and or settings on their account. There are plenty of features that make Phone.com seriously worth checking out including transferring, holding, and call recording. 
While you do lose out on an account rep, you can still avail of a lot of support. There is phone, e-mail, SMS, and live chat support. There is also an online support resource with in-depth user guides and FAQs.
Features: 
Auto Attendant – A custom greeting can be set up with options to use a menu which directs callers to the right department or employee. You can input your greeting in text and have it read in an auto voice, or for a more personal touch, you can even upload an audio file, or just record it directly. You can ask callers to press certain buttons to be re-directed eg. press 1 to reach the Sales Department/ or John. You can set up this greeting through your user account.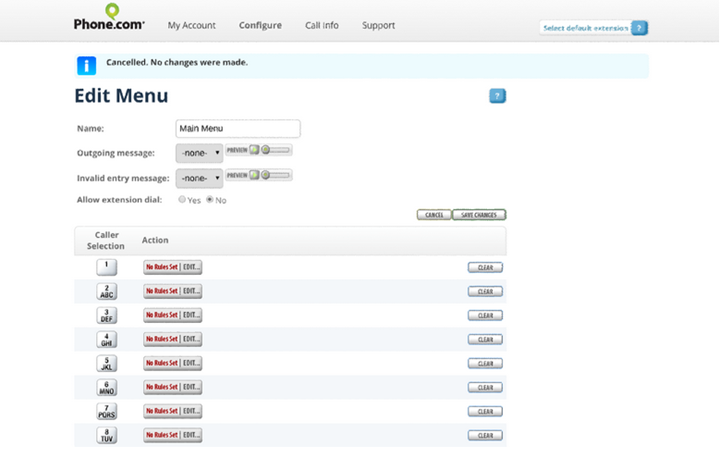 Call Routing – You can set up your call routing to have a customer's call go through to all phones. If there is no answer, the customer is then prompted to leave a voice message. You choose 'forward call' for this option and enter all the numbers and extensions you need. Your second option is to set up call queues. You choose which employees receive calls from certain menu numbers being pressed by the customer. If the employee doesn't pick up, you can then set up the 2nd person to pick up, and a 3rd and so on.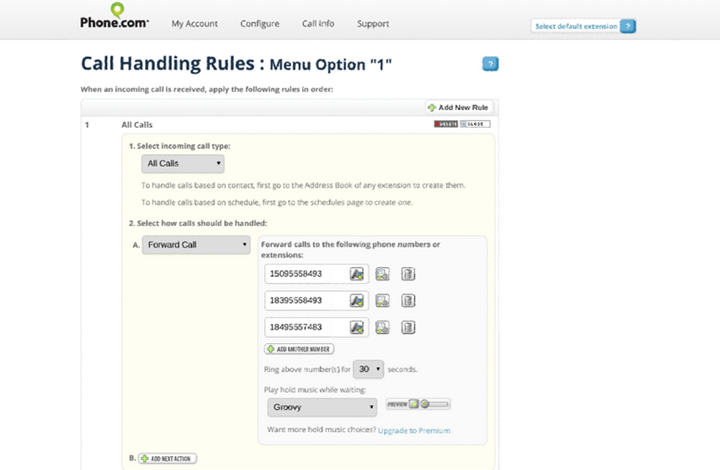 Voicemail – Every extension gets its own voicemail box which can be accessed online. You can even set up email notifications to let employees know there are voice messages waiting for them. You can have the messages transcribed to text and sent by SMS at an extra cost per extension.
Online Fax – You can send and receive faxes with all plans from Phone.com. If you're on an unlimited plan you can send and receive unlimited faxes! You can send faxes from specific extension numbers, and can either type the text directly or upload a file. Unfortunately, for the fax feature, you must have a new phone number different from your usual business phone number. Notifications of faxes will show up with voicemail notifications.

Source: fitsmallbusiness.com

 

Conference Calls – while it may not be up to scratch with video conferencing solutions, the conference call feature allows for up to 500 participants to dial into your meeting. You get a permanent conference bridge number that participants can use and then a 6-digit number to dial into a specific meeting. You may only have one conference call in session at once. Participants can mute themselves, or the meeting leader can mute everyone on the call.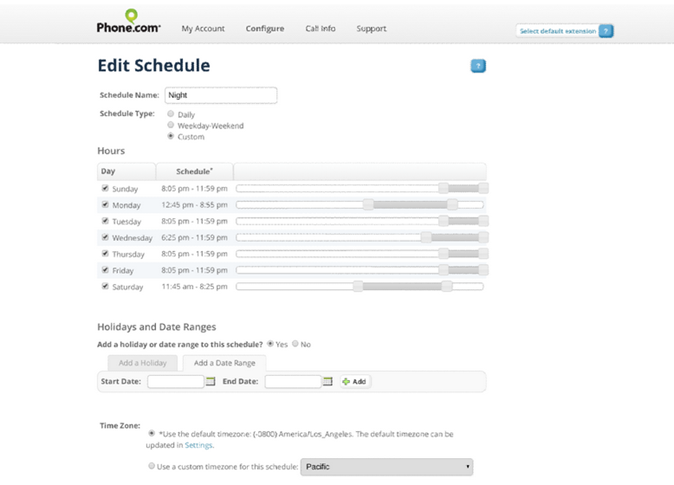 Call Recording – You can record your calls from any point just by pressing the 7 button. The recording then will be stored in the call logs on your dashboard. You can even set up calls to be automatically recorded so you don't even need to remember! 
Featured Image: virtualhostedpbx.net