When it comes to the internet, one of the first words that comes to mind is Google. 'Google it' has become our answer to pretty much everything!  Well, the internet giant has expanded into the realm of video conferencing solutions, and they're proving to have just as much impact as they have with their search engine.
If you were big on Google Talk, Hangouts is perfect for you. It's a combination of Google Talk, and a video conferencing solution. You can access it directly from your home screen or download it from your App Store, or from the Google Play Store. Naturally, when it comes to video conferencing, you want to make sure you pick the right system for your business so we've put in the hard yards, and reviewed Google Hangouts so you don't have to. We've made a huge list of pros and cons for this particular app. Read on to find out if Google Hangouts is the right one for you!
Pros
No registration process

All conversations clearly displayed on your screen

Users can switch between video and text features simply.

Up to 10 people on one call.
Cons
Pulls contacts from everywhere – rather than sticking to just the business contacts you may prefer to have available. 

The mobile app doesn't show you who is or is not online.
Cost
The question on almost everyone's lips when they look at video conferencing solutions is 'how much does it cost?' And we get it, when it comes to a small business, budgeting and costs are very important.  Well, Google Hangouts is completely free. You heard right, it's free. It's manufactured by Google/Android, and it's perfect for when you're hosting a conference, or just generally connecting on the go. You can install Hangouts on your Android, iOS, or Chrome so you don't have to be stuck in the office all day just to connect. So you can set up your Hangouts account without even thinking about budgets and get started right away!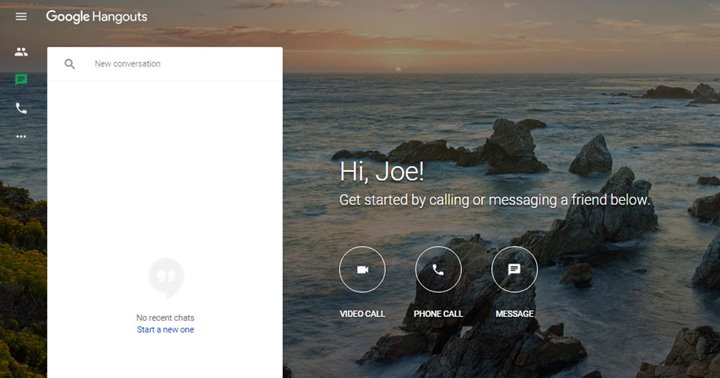 System Requirements
To get Google Hangouts, you need to have Android 4.0 or more. You can download it on a number of other platforms too like iOS, which makes it one of the most flexible video conferencing services on the planet so far. It also helps if your phone is video enabled – if yours isn't, talk to your phone provider to get yours set up. Even if your camera isn't quite up to scratch, you are able to disable the camera function and use the system simply as a phone conference rather than video! It may not work on phones that don't have the capacity to run smart phone apps though. 
Interface
The interface Hangouts uses is easy to navigate and can automatically detect the speaker. It displays which caller is talking on screen and has smaller screenshots of the other participants on the call. If you are using a cell phone you can toggle between front and rear facing cameras, and even turn off your microphone. You can use Hangouts without the video option also meaning that you don't even need to show your face if it doesn't suit!
You have access to all of your Google accounts including Google Docs, Contacts, and Calendar through the interface too meaning you can switch between accounts with no hassle. The homepage is clean and simple, all of your chats are displayed and you can simply tap or click on a chat to access it. Once you are in the chat you can send text messages, phone, or video call them and invite other contacts to join. 

Simply set up your conversation and invite your Google Hangouts contacts or send a link through email to the people you want involved in your call. It's so easy and straight forward. 
Featured Image: techfactslive.