MAP Communications refers to an answering service with competitive fees and a full roster of live answering services. It serves a wide range of businesses, including those within the legal, educational, and medical industries. The service is also available for contractors and small businesses.
MAP Communications has been HIPAA compliant since 2001. As such, your clients' information is always safe and secure. The agents working at this answering service are also well-trained to use various online calendars, including Yahoo's and Google's. As a result, appointment setting is made available in your basic answering service plans at no extra cost. The service is also capable of taking and processing orders for you.
FEATURES
Messages and Voicemail
In case a caller wants to leave any message for you, the receptionist will just copy the message down and then send it via email or text. You can also decide to login into the web portal so as to view all messages. However, Map Communications doesn't have a traditional voicemail inbox. As a result, all messages have to be copied down by a receptionist and then sent to you in form of a text.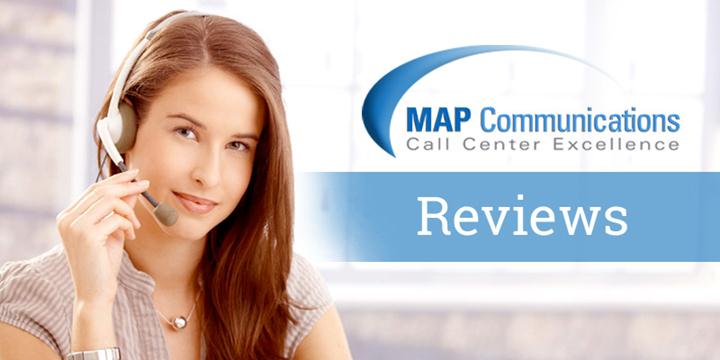 Follow Me/Find Me
Each and every person at your business can have his/her own separate routing instructions. For instance, you can choose to have calls that are routed to your businesses' number first. Then, in case you do not pick up, you can have the call transferred to your cell phone. Map Communication has the automated "Roster Services" that will code your employee's schedule into their own system so that they can know who is responsible for a given call at any particular time.
In case you want your instructions to be changed; for instance if you are leaving your office and you want all calls to be routed to your cell phone or in case you are about to head to a meeting and you want calls held – you just have to call using the 800 number and then let them know exactly what you want.
Online Dashboard or Mobile App
You can utilize the web portal when checking all your call logs, messages and view billing and usage information. While Map Communication records all calls, you can't listen to them via the user's portal. If you actually want to hear any recording of a given call, you can just dial their support number and then ask them to send you the audio clip.
There are no mobile applications for Map Communication's live answering services. However, you can still log into the user's portal from any mobile device.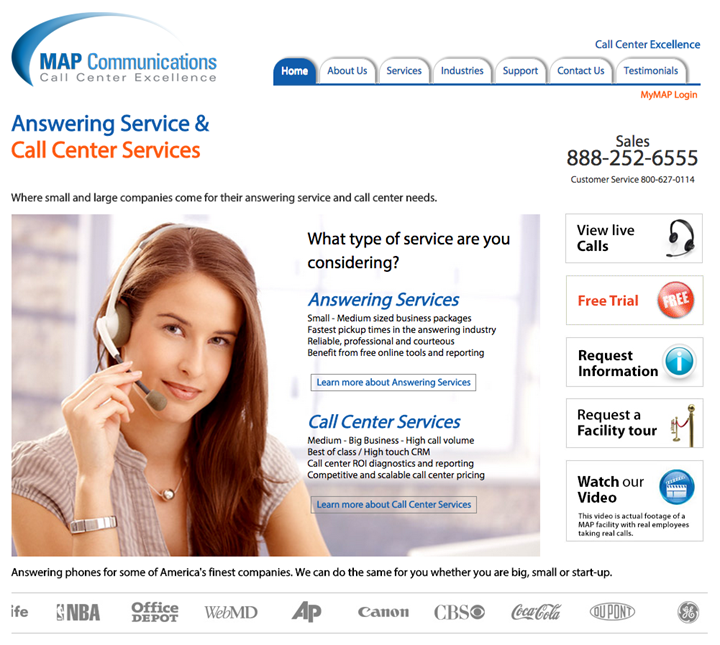 PRICE
This answering service normally charges per minute though they have one of the lowest rates in the industry. Furthermore, the setup process is also relatively fast. The MAP Communications answering services are capable of getting you up and running in 24-48 hours after they have received your script for their agents to read whenever they answer your calls.
Pricing by Map Communications is a little bit complicated. There are 3 packages offering different features. Within every package there is tiered pricing that depends on the number of minutes that you require per month.
Basic receptionist answering service is $42 per month. Map Communication can also answer simple questions regarding your business (such as hours and location) and take a few messages from the callers. However, they can't forward calls to your employees or even to you.
For $42 per month you get thirty minutes of call time. Any additional minutes are charged at $1.05.
The next level is the Scripted Answering Services. With this scripted package, you can provide several call scripts for the receptionists to answer complicated questions like pricing or even order help. Receptionists can also book appointments for your customers using Yahoo Calendar, Google Calendar or Appointment Quest. In addition, they can fill out the one-page web forms.
For $50 per month you get zero minutes of talk time, but you pay $1.11 per minute.

For $81 per month you get thirty minutes of call time. Any additional minutes are charged $1.09.

For $111.50 per month you get sixty minutes of talk time. Any additional minutes are charged $1.07.
The top package by MAP Communications is the Live Transfer Services. This package includes everything from Scripted Service. In addition, receptionists can also transfer calls to your employees or to you. The pricing is almost the same as Scripted Service, so you simply have to pay more dollars per minute.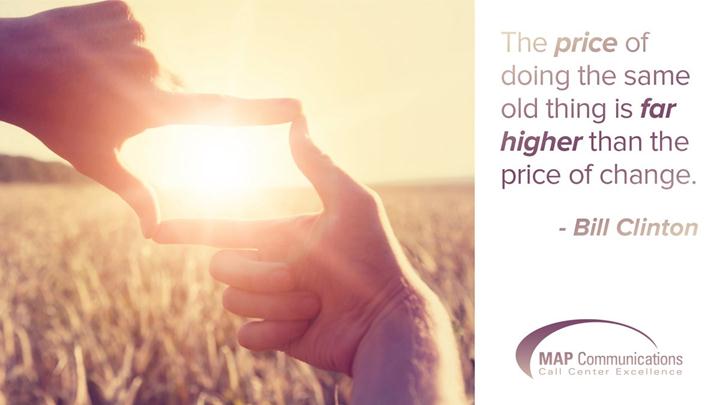 SETUP
Setup usually happens through email and over the phone. If you are going with the basic messaging services, then this could usually be completed in one day. Otherwise, if you are using call forwarding and call scripts answering services, this can take to a few days. Call scripts and forwarding scripts have to be sent via email.
PROS
This live answering service has a very quick activation time and you can actually set it up within 24-48 hours.

The schedule doesn't change on a weekly basis which makes the

live answering services

reliable.

The staff members are friendly any time you seek assistance from them

The company is still growing so they're always creating new job positions
CONS
This

answering service

doesn't provide live chat or email support.

The service is not suited for businesses that require a dedicated receptionist.
CUSTOMER SERVICE
MAP Communications answering service is available to answer calls 24/7. It also has bilingual agents whom you can use in case you need them. They also have an online account which you can access and see the online analytics about your phone calls along with other useful information. The answering service also provides the user with their own toll free number which customers can always call for help. MAP Communications also has a wide range of services that you can choose from. They can also come up with customized plans with the exact services that you need.
The support service doesn't offer live chat or email support. When you speak to an agent via the phone, you'll certainly get a positive experience. The agents are helpful, knowledgeable and at the same time eager to sign you up for services.
FINAL VERDICT
MAP Communications is a very solid live answering service. It offers competitive monthly rates and a plethora of features, including order processing and appointment setting. It also has bilingual agents who are available to pick calls 24/7 thus making it one of the best answering service that you can use today.
Featured Image: twitter